Contest Rules
This year, our contest theme is "A Cowboy Christmas." Draw your ideas and enter for a chance to see your design on our 2023 Holiday Eggnog bottles. Include the year "2023" in your design. Create your entry using the form on the back side of the August Mooo News or on a blank sheet within a 4 ½" x 1 ½" rectangle. Draw with a black pen or marker to make dark lines. Use only one additional color.

Contest entries must be received at the email customerservice@longmontdairy.com before midnight, August 13, 2023. The contest is open to students who are in grades Kindergarten through 12th grade and whose families are current customers of Longmont Dairy. Parents or legal guardians of student contestants will agree to sign a creative release for student artwork. No monetary compensation will be made to the winner. The winner's design, name, school, grade, and age may be published in the Mooo News, and online at www.longmontdairy.com for purposes of promotion and at the discretion of Longmont Dairy, Inc. All art submissions become the property of Longmont Dairy, Inc. Your entry of this drawing confirms your consent to these contest rules.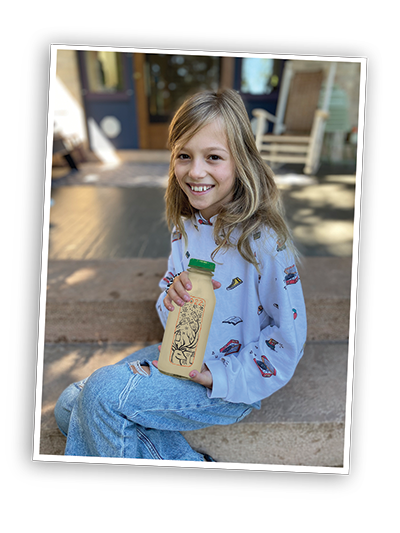 Congratulations to our 2022 Eggnog Bottle Holiday Design Contest Winner, Vivi Roetter!
Vivi is from Boulder and a fifth grade student at High Peaks Elementary. Her favorite subject is science and she wants to be a rock climber when she grows up.

She has liked art as long as she can remember, has attended Sunflower Art Studio, and takes a weekly art class. Other interests include bouldering and reading.

With her family, Vivi enjoys traveling to Mexico and Italy. She has a younger brother and a pet Shih Tzu named Mucca (which means cow in Italian).

Chocolate Milk is a Longmont Dairy favorite. She has never entered the Eggnog Bottle Design Contest, though her mother has been encouraging her to for years. Great job, Vivi, and thanks for your radiant reindeer design!